Well, Jan 7/8 2012 was my free weekend for the next month in a half as I prepare for my deployment.  On Saturday, my wife suggested we go to Busco Beach and go ride the four wheelers.  Without hesitation, I jumped on the idea.  With the highs being 70 degrees, it was the perfect weather to go riding. 
When we arrived, it was packed!  We haven't seen it this packed for months.  So as we're riding around, we see a ton of kids out riding their four wheelers and dirt bikes and they looked like they were having too much fun.  So after a short discussion my wife and I decided to bring the kids out Sunday to go riding.  My son wasn't too thrilled about it.  Ever since his accident where he fell off, he has not wanted to ride them. 
My daughter on the other hand…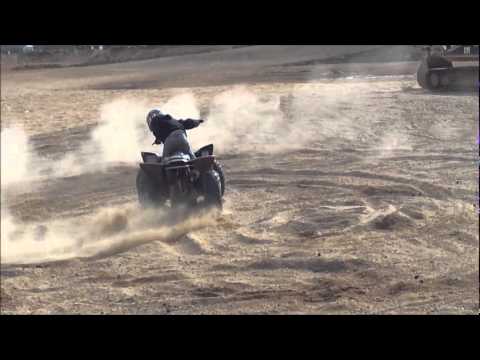 My daughter had a blast doing "zig zags" and donuts.   I'm going to get her four wheeler fixed up with some new rims and tires and some performance mods and see if she wants to race it.  I think she'll have a blast doing it.  And if not that's ok too.  We can rip it up together! 
I can't wait for my deployment to get over…